Pilot Factory Concept for Recycling of Critical Metals
---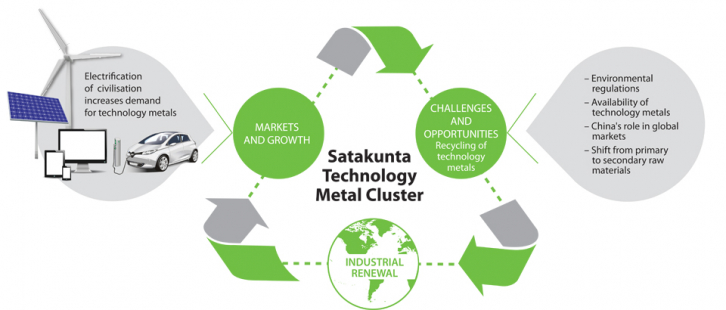 The electrification of our society is a global megatrend, and it greatly affects all areas of our daily life, like energy production, traffic, communication, electronics, etc. This phenomenon has caused a growing demand for the raw materials which are produced by Satakunta Metal Cluster. The main focus in this project is to ensure that Satakunta Metal Cluster is able to fully utilize these new market possibilities and lead the way towards a low-carbon economy.

Recycling and the principles of the circular economy are the most important tools in developing competitiveness and renewing the industrial structure in Satakunta. In this project, the principles of the circular economy are put into practice by mapping the development opportunities and piloting the most promising cases. The possibilities for physical premises, i.e. a "pilot factory", are also evaluated during the work.
This project is funded by Satakuntaliitto with ERDF-funding and the municipalities in the Pori region.
For more information, please contact
Minna Haavisto
minna.haavisto@prizz.fi